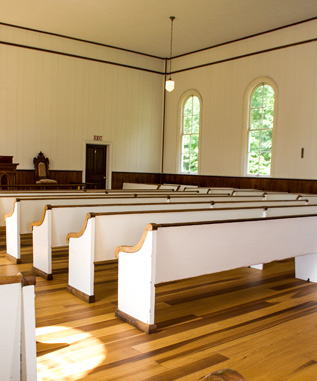 We create your perfect dream!
Smiths Chapel and Bolock Farm is the premier wedding venue in Niles, MI.  We service all of Southwest Michigan and Northwest Indiana.  If you're looking for an affordable wedding venue with tons of character at a reasonable price, we're your destination.  A 150 year old renovated church with character combined with a 20 acre landscaped property – what more could you want?

Weddings
Book The Smiths Chapel for the ceremony of a lifetime in a newly renovated 150 year old church.

Receptions
At Bolock Farms, you couldn't ask for a more natural setting on the most important day of your adult life – your wedding.

Vow Renewals
Looking for a quaint, affordable place to renew your vows? You've come to the right venue!

Funerals
Consider Smiths Chapel for the celebration before sending your loved one to their final resting place.
Smith's Chapel and Bolock Farms are the ideal combination – an afforable, comfortable venue for your Niles, MI wedding and reception.

Of course you have questions, but are you ready to take a tour of our grounds?  Photos are great, but a personal tour is a must before making such an important decision.  Contact us below to get in touch!
Wedding Home
July 15, 2016